Fielders masks have become much more popular in recent years and we are glad to see this trend.  There is no need in risking any injury to your face from a line drive.  It is just not worth it.   All infielders are at a high risk, with your pitchers especially being in the crosshairs when it comes to being hit by a ball.  Standing closer to the batter than even in baseball, they stand at risk of being rocked by a hit more than most any other player on the field.  If that happens it could be the end of their career, or worse.  Here is a video of a pitcher WITH A MASK on being hit in the face.  Had she not been wearing her fielders mask there is no telling how bad off her injuries would have been.  Please watch and you will definitely make wearing a mask a priority on the field for you or your players.
There is not an over-abundance of fielders masks on the market, so we've done the research and have come up with our top 3 suggestions for best fielders masks that we can find and we URGE you to purchase one of these for the safety of your softball player especially when playing the infield.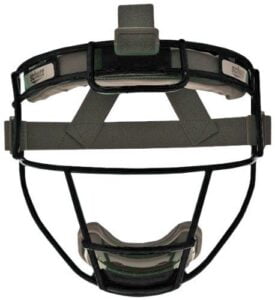 Schutt Varsity Softball Titanium Fielder's Guard
Durable Titanium
Good Visibility
Very Lightweight
RIP-IT Defense Softball Fielder's Mask – Youth
Steel Mask
Great Visibilty
Best Looking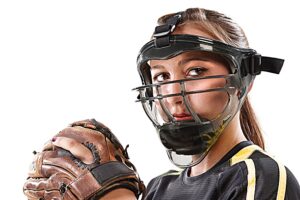 SKLZ Youth Fastpitch Field Shield (Small/Medium)
Polycarbonate Material
Budget Option
IMPORTANT:  These are SOFTBALL masks.  They are NOT meant to protect you from a BASEBALL!
---
RIP-IT Defense Softball Fielder's Mask – Youth
Near the top of our lists for Fielder's Masks is the RIP-IT Defense Softball Fielder's Mask.  Available in most colors and pony-tail friendly, this mask is one of the most common seen on the field and for good reason.  It is a quality well built mask, that still provides some of the best vision from the player compared to many other masks.  This lightweight mask fits comfortably and is adjustable to fit most any face/head size.  The adjustable chin cup lets you remove and replace the chin piece wherever fits your style best.  You can find many testimonies of players using this mask and having it taking a hit and saved that player from injury or worse.  The reason for this is that the RIP-IT Defense Softball Fielder's Mask is designed in a way that (to put in simple terms) if a player is hit by the ball while wearing this mask, the mask helps to deflect the impact of the hit and spread it across a wider area, thus bringing the severity of the hit down and in turn causing much less injury.   All-in-all you can't go wrong with picking up this quality mask.
---
Schutt Varsity Softball Titanium Fielder's Guard
In our opinion, the closest contender to the RIP-IT mask is the Schutt Varsity Softball Titanium Fielder's Guard.  Here we have another nice quality, well-built mask for your girls.  You will still get great protection from this mask.  The main difference here is that this mask is made with titanium to bring the weight of the mask down and the comfort levels up.  While covering up just a tiny bit more of the visibility than the RIP-IT, you will still have a great view out of this mask.  If you really want the lightest most comfortable mask you can get, and you don't mind paying a bit more for it, then the Schutt Varsity Softball Titanium Fielder's Guard is most definitely the mask for you.
---
SKLZ Youth Fastpitch Field Shield (Small/Medium)
Coming in as a bit more affordable option than the Rip-It and the Schutt is the SKLZ Youth Fastpitch Field Shield.  Unlike the steel and titanium masks, the SKLZ fielders mask is made of ultra-lightweight polycarbonate material that is non-bendable and shatterproof.  With decent vision you won't complain despite the SKLZ having more and wider bars running across the front of the mask.  The mask also sports 3/4″ foam and an adjustable chin pad for comfort through the entire game.  While this mask would not be our first option, it will definitely do the job for those on a budget yet still wanting to protect their little ones during game time.
---
In closing we cannot stress enough how important it is to keep our kids and ourselves safe out on the field.  Softball is a sport that many love, but it can still be dangerous and life altering.  Please wear a Fielder's Mask if you are in a position where you are at risk to get hit.