The Best Portable Folding Chairs for Travel Ball Tournaments
It seems like such an easy decision to pick a folding chair. Just run to your local big-box store and grab the first one you see and be done with it. Right? Wrong! Do you realize how many countless hours you will spend sitting in this chair? Think about how many softball or baseball tournaments you have a year. Think of all the games you will have your butt attached to that chair. Think of all the practices you have to sit through. And then on top of all of that, if you're like us, you will be bringing this chair everywhere else. You may carry it on camping trips, fishing outings, outdoor concerts, or to any other sporting event if you have kids playing other sports such as soccer or football.
When you really think about it, it may be worth it to go ahead and get a good quality, comfortable chair that will last you a long while. When you look at the market there are quite a few chairs out there and you may have a hard time deciding which folding chair is right for you. As usual, this is where we come in. We hope to be able to help you narrow down that list to the one chair that will be perfect for you and will give your backside many hours of comfort. As silly as that sounds, it's actually the truth.
Below you will find our list of the best portable folding chairs for travel ball. We hope this helps you find the one you love!
Best folding chair for those on a budget
At the time of writing these chairs were the most budget-friendly however, prices may change at any time.
Academy Sports Outdoor Logo Armchair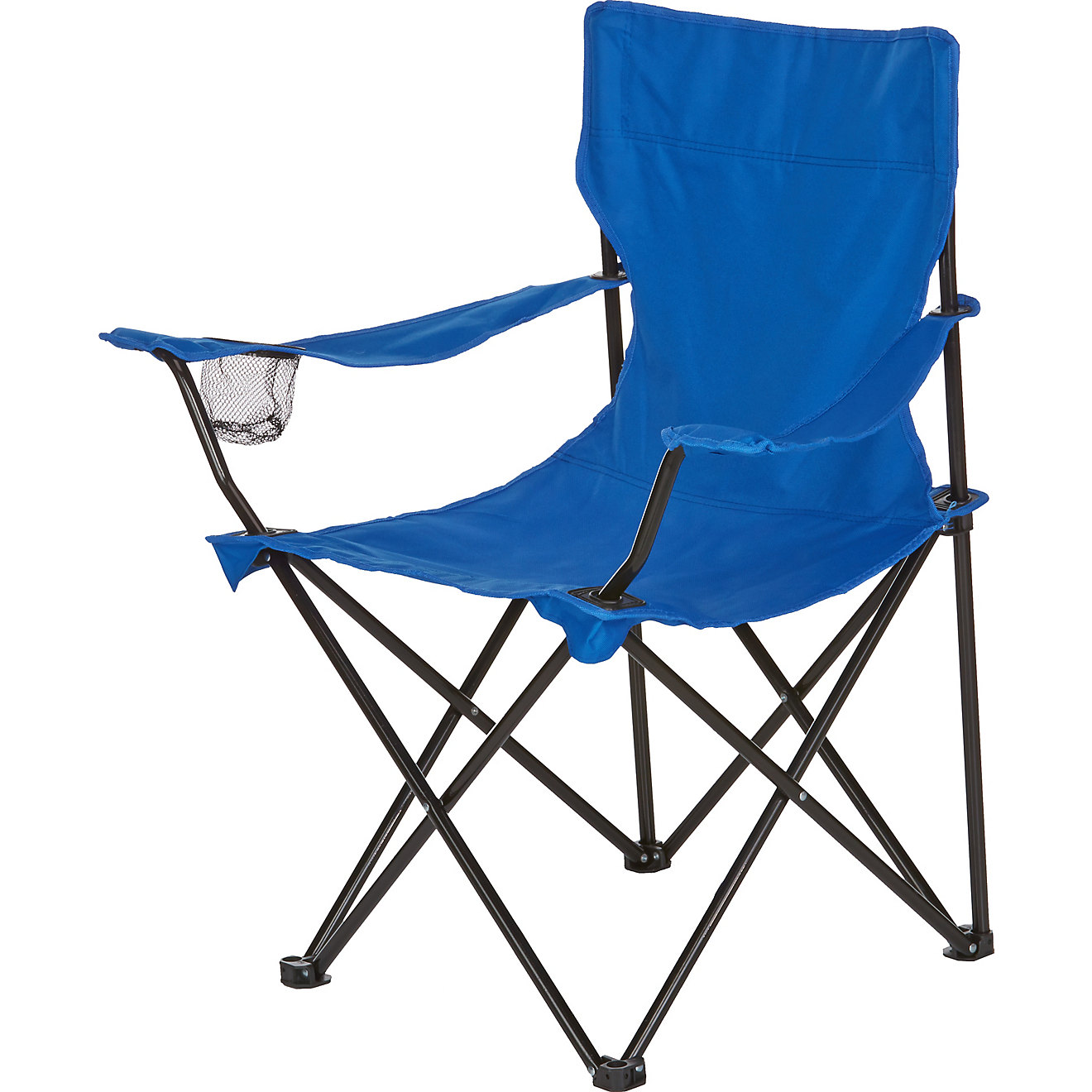 This is the most budget-friendly chair we know of. We have a few of these for extras and they have lasted a surprisingly long time. There is not a lot special about them. A simple, light folding chair with a single cup holder. Note that this is probably not the chair you want if you're used to oversized chairs. This is the kind of chair that once it does get damaged, you have no issues tossing it because the price is so low to replace it with another. These chairs are also good for youth and kids as long as they aren't smaller kids that would be more comfortable in a kid-specific chair.  Best bet is to buy in store to avoid shipping costs
Coleman Broadband Mesh Quad Camping Chair


This is another simple, yet budget-friendly chair that has the bare minimum of what you need at a price that won't hurt you too much. This chair will usually run a bit more cost-wise than the Academy Sports chair mentioned above. The main differences are that this chair has an extra-wide 21.3-inch seat and a nylon mesh back for better ventilation.
Best folding chairs for kids and youth
Pacific Play Tents Super Children's Chair


A simple little chair that will hold up to 100 lbs. There is a safety lock to prevent accidental closings. One downside is there is no cup holder on this chair.
SUNNYFEEL Kids Folding Double Camping Chair


If you have two little ones tagging along with you to sporting events then this double chair is a pretty nifty idea.  The sturdy steel frame construction holds up to 125 LBS and the extra large mesh pockets and cupholders can hold all their little trinkets.  This chair, despite its size, has easy setup and takedown.
STRONGBACK Prodigy – Kids Folding Heavy Duty Camping Chair with Lumbar Supportive Ergonomics and Portable Carry Bag


This is just about the coolest chair you're going to pick up for a kid. It has lumbar support that is supposed to help align body posture correctly. The chair does have two cup holders. There is a rear mesh pocket for storage. It will also hold up to 200 lbs, yet the chair weighs under 5 lbs. A bit more expensive than the others listed, but if you like the extras that this chair has it may be worth it.
Best folding chairs for adults under $100 (at time of posting)
Amazon Basics Portable Camping Chair


This chair is another low-priced chair with the added features of having a built-in beverage cooler (holds up to four 12oz cans), a cup holder, and a storage pocket. Comes in 2 basic colors.
Kijaro Dual Lock Portable Camping and Sports Chair


This chair comes in just about any color you would want. This is a dual lock chair that has no-sag seating, ripstop polyester, and breathable mesh on the seatback. It also has 2 cup holders, an organizer with zip and mesh pockets and the chair is capable of holding up to 300 lbs.
Coleman Camping Chair with Built-in 4 Can Cooler


If you're looking for a chair with a fully cushioned seat and back, then you should check this one out. It also has a built-in 4 can cooler, side pockets, cup holder and will support up to 325 lbs.
ALPHA CAMP Oversized Camping Folding Chair Heavy Duty Support 450 LBS


For those needing an oversized, heavy-duty chair. This chair has a large, padded seat area, along with padded armrests for comfort. The chair is able to support up to 450 lbs. There is also a mesh cupholder, side storage pocket, and side cooler bag.
GCI Outdoor Freestyle Rocker Portable Folding Rocking Chair


Probably the most popular chair at the ballpark, and for good reason. If you enjoy rocking chairs, then this is what you're looking for. Supports up to 250 lbs. Includes padded armrest, mesh backrest and a cup holder.
Cliq Camping Chair


If you want the chair that's going to take up a tiny footprint when stored and can still deliver comfort, then look no further. Folded up, this chair is about the size of a drink bottle. Super portable. Sets up in about 5 seconds and is tip-proof. Supports up to 300 lbs while only weighing 3.5 lbs.
Best folding chairs for over $100
POP Design, The Hot Seat, Heated Portable Chair


For those cold-natured people, here's the perfect chair to warm you up! This chair is one nifty little chair. The seat can warm up to 110 degrees Fahrenheit (you need to purchase a portable USB battery as it is NOT included). The chair is foam padded, has 3 reclining positions, and has a phone sleeve, zipper pocket, back pocket, double front compartment, and a mesh cup holder. You will need to purchase a portable USB battery to run this chair as it is NOT included.
WE HIGHLY RECOMMEND ANKER CHARGERS FOR THIS SUCH AS A 10000mAh or 20000mAh.
YETI Trailhead Collapsible Camp Chair


YETI is well known for designing quality, high-class items, and this chair doesn't disappoint. With a very sleek, solid design just the looks are impressive. This chair will hold up to 500 lbs. Flexgrid fabric conforms to your natural curvature and eliminates pressure points. Can be carried like a backpack with the two-strap carry bag. The chair is UV rated and will not break down under UV rays. Extra-wide, ultra-strong feet for gripping any terrain.
Guide Gear Oversized Club Camp Chair, 500-lb. Capacity, Green Plaid


Do you want the ultimate oversized, plush, heavy-duty portable chair? Well, here it is. This chair combines the comfort of cushioning with the convenience of a camping chair. Enough room to cuddle with a little one as well. Includes mesh storage pocket and cup holder.  Available in multiple plaid colors.
Nemo Stargaze Recliner Luxury Camp Chair, Twilight/Smoke


We truly hesitate to add this chair. You go to travel ball games and tournaments to watch softball or baseball games, but with this swinging chair you may just end up napping or looking at the stars in the late evening games. This is not a chair we would recommend for everyone however, it is an awesome chair nonetheless. There are similar, cheaper chairs on the market however many of them seem to have design flaws. Nemo Equipment gives good support on their chairs and worked hard to make this a well functioning, high-quality swinging/reclining chair.
---
Uniform Check!  Is it time to start looking for a new uniform vendor for your softball team?  If the answer is yes, then head on over to our list of the Best Softball Uniform Vendors post!